Smashing Good Time With The Incredible Hulk
I got home late Wednesday night after going through an incredible sonic bombardment known as The Incredible Hulk no thanks to the THX-certified cinema I was watching in.
The movie, or at least the cinema, was adamant in its quest to put everyone in the mood of the angry green giant even before the movie started. There was a long queue at the Internet booking counter and for some strange reason quite a number of people had their Internet bookings rejected, including mine.
Funny thing is, the booking number shows up in online, but not in the cinema's ticketing system.
One guy managed to get through but because his friends didn't show up, he immediately offered the seats to us. All was not lost after all. 🙂
The Hulk has its big coming out party several years back, with an Ang Lee-helmed movie and Eric Bana playing the lead character role. Despite what some people might say about the movie, I liked it alot, especially the comic book panel-like effect. The only problem I had was with the ending; it made a slow, calculated movie even more confusing.
In any case, The Incredible Hulk will have non of it. A reboot of sorts, it isn't really an origin story. Suffice to say, what took the the better part of Ang Lee's movie to tell was compressed into the first few minutes of The Incredible Hulk.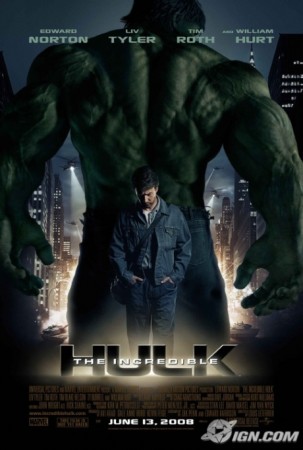 Edward Norton brings about a wryly, in fact a little neurotic looking Dr. Bruce Banner, on the run from the US military after an experiment involving gamma radiation causes him to go big, green and angry. Fleeing from Brazil to Guatemala and then back to the States (but not before turning into the Hulk), Banner is in search for the one person who can cure him.
Along the way, he is faced by an extremely kiasu opponent, in the form of Emil Blonsky, who is given more and more doses of a super-soldier serum in order to be able to go head to head with the Hulk. LIke drug-abuse, things start to go bad both for Emil and the Hulk.
Edward Norton's Bruce Banner reminds me of the Ultimates version of Bruce Banner. I would say if there's a movie adaption of The Ultimates, Edward Norton is the go-to guy to play Banner. There's also a scene from the movie that slightly mirrors the comics, involving him, a transport helicopter and turning into the Hulk.
I really like this movie and I'm sure that comic book fans are in for a treat with The Incredible Hulk. There are cameos and hints on what this movie and that other super hero movie, Iron Man, would lead to. Go on, go watch now, or else Hulk SMASH!
Powered by

Sidelines
Previous Post One Rhythm Game Where You Don't Want to Shake a Stylus At