Nintendo DS Card Game With RFID Reader Going For Cheap!
I've been waiting for this for some time, and now Juushinden: Ultimate Beast Battlers is available for a bargain bin price of USD 19.90, way cheaper compared to its original price of USD 64.90.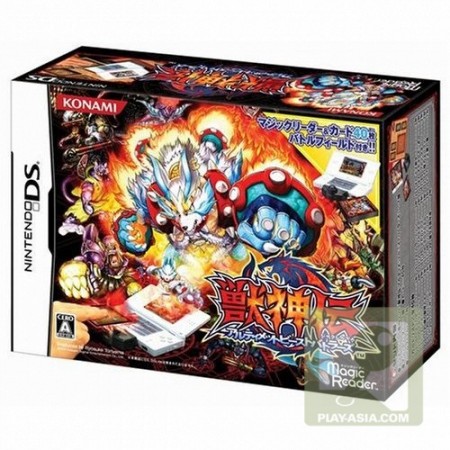 According to this site, the game is a collectible card game not unlike Yu-Gi-Oh or Pokemon but uses an RFID reader to read actual cards! Here's the description taken off the Booster Pack product page on Play-Asia:
This pack contains the cards for Juushinden: Ultimate Beast Battlers Booster. It is an action game where you battle with other players by the cards you acquired. Call upon the beast battlers by placing the cards onto the magic reader attached to your DS. Decks in this second series can be strengthened by combining and recombining your cards, plus there are new cards to choose from and will make your battles more intense than ever.

Scan a card from this second series at a specific place and launch an extra story. In this new story, new cards can be used with the computer. Train yourself with the fierce monsters in these games. Aside from strong cards like Gao, the last installment include three other types of monster cards. This time, however, there are six of them! Build up your deck and swap cards with friends.

You can store up energy in the cards and launch powerful attacks – Cards related to how monsters acquire and achieve their energy are produced for this second installment. This concept goes far beyond the earlier versions that used a game of paper scissors rock to produce results.

More characters are turned into cards. Characters that exist only within the game made their appearances as cards, so test their strengths!
I've already got one card-reading game in my collection (Love and Berry) and I wouldn't mind an additional one. Interested? Click here for further details. Juushinden booster packs are also available here.
Powered by

Sidelines
Previous Post YouTube-Based Nintendo Dedication