Word Play: A Comparison of Crossword Games on the Nintendo DS
With the release of USA Today Crossword Challenge, the Nintendo DS has actually quite a number of games to cater for crossword fanatics. But as much as I like word games like Scrabble, I rarely can bring myself to finish a crossword puzzle.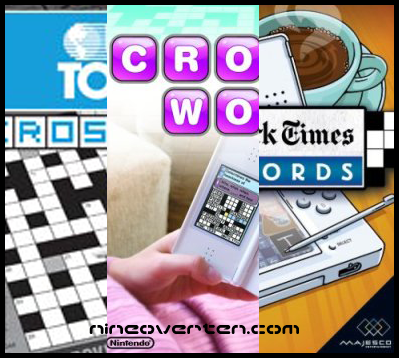 So how does a casual gamer like me measure up to the plethora of crossword puzzle games on the DS? We have here a trio, the recently released USA Today Crossword Challenge and Crosswords DS, and the old standard bearer, The New York Times Crosswords.
Even though they may seem to share the same fundamental concept, serving up hundreds of crossword puzzles each, each game is different than the other, and by saying that, may actually appeal to different kinds of gamers.
Look and Feel
In terms of presentation, USA Today Crossword Challenge presents a rather clinical interface, one that is geared for what I call the hardcore casual gamer. These might not be traditional video gamers, but are casual gamers who are really good at what they play, in this case, crossword puzzles. This game is perhaps the Chuck Norris of the three.
On the other hand, The New York Times Crosswords has an cool, inviting interface for casual gamers, who wouldn't mind sitting down for an hour (or two) , leisurely completing a crossword puzzle. It's also the only crossword game that I've encountered so far to have an intro movie of sorts.
However, what I find most noob, or newbie friendly is Crosswords DS. This isn't surprising considering that it is part of the Touch Generation series of games whereby due emphasis is given for non-gamers.
Watch the Hand-writting
All three games support hand-written input from the touch screen with Crosswords DS being the most flexible, taking cues from the Brain Age series of games. The two other crossword games will have you writing in a box fixed to the lower left of the screen, diminishing the experience of writing ala on a real crossword puzzle.
I also find the hand-writing recognition for The New York Times Crosswords to be a tad slow. Pioneer status perhaps, but at least there's some nice music playing in the background. Can't say the same about Crosswords DS and USA Today Crossword Challenge.
Gameplay
Now, both USA Today Crossword Challenge and The New York Times Crosswords are both out-and-out crossword games (not to mention existed on newspapers prior to this), but what happens when you get bored solving crossword puzzles? I know I feel that way sometimes, and these two games have nothing else to offer.
On the other hand, Crosswords DS isn't limited to crosswords, unlike what its title implies. It comes with two additional, albeit word-based game modes, Anagrams and Word Hunt. I have alot of fun with anagrams but its abit bothersome to have a banned list of words.
Summary
If I were just limited to one game, I'd probably get Crosswords DS instead. No point buying the other two since they would present a much higher level of challenge, which would probably make me give up and put the cartridge in cold storage. Being pretty easy to play (due to intuitive touch screen controls) and having extra game modes (which are crosswords), does much to help the Crosswords DS cause.
Crosswords DS is available at Play-Asia, click here for details. If you are interested in The New York Times Crosswords, it is also available at Play-Asia. Click here for details.
Powered by

Sidelines
Previous Post Special Edition PSPs Abound: Featuring The God of War Entertainment Pack
Next Post Yatterman Touch Pen & Stand Collectibles