The ROM Report: Reloaded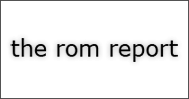 The ROM Report is a series of articles that I started writting back when Nine Over Ten 9/10 was on Blogspot.
The gist of the articles is mainly on retro games from consoles such as the NES, SNES, Megadrive, etc and how to run them on the Nintendo DS courtesy of emulation from a rich variety of homebrew software.
The response has been great towards The ROM Report articles to the extent they are one of the cornerstones of Nine Over Ten 9/10. I've now ported all 11 TRR articles from the old blog to nineoverten.com.
Look forward to seeing brand new The ROM Report articles in the near future! Kindly subscribe to Nine Over Ten 9/10's feed to keep yourself up-to-date. Click here to read previous TRR articles!
Powered by

Sidelines
Previous Post New Terminator Movie Begins Shooting
Next Post The ROM Report XII: The Trouble With Running Megadrive Games on the NDS